Whether you want to try a Ridefit workout, or are looking for products to support your fitness and wellness, this is the place to find it all!
Ridefit™ Services & Packages
---
We offer private and group fitness training by Skype. No more excuses for working out! No more driving back and forth to the gym. 30 minute intensive sessions fit into anyone's schedule.
Schedule sessions at your convenience, such as just before you head out to the barn, to get the absolute most out of your precious riding time!
Purchase single sessions or monthly packages. Reduced pricing is applied for monthly subscriptions.
Combine private and group sessions for a fun and varied fitness program.
---
1-Month Rider Intensive Package – $499.00
Combine a ridden fitness assessment with personalized Ridefit workout sessions by Skype, and experience what Ridefit can do for you!
60-minute Strategy & Goal Setting session
Ridden assessment by video
8 Private Skype workout sessions (2 per week)
Unlimited Group Skype workout sessions
15 Minute Rider Warmup video – Ridefit anywhere, anytime
Ridefit Reflections™ e-mail – education, motivation and inspiration in your inbox weekly
Check out special deals and offers on this package
---
Ridefit 90-Day Power Program – $1997.00
Ride better and perform at your peak physical capability with this "Power Program" for riders who are serious about riding at their very best. This program is great for anyone who wishes to lose weight as part of their Ridefit experience, as well as professionals who want to optimize their physical health and capability.
This is the ultimate High Performance fitness program for riders.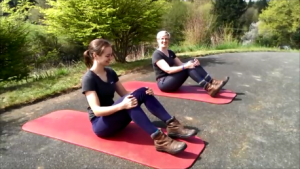 Package includes:
60 Minute Strategy & Goal setting session
Rider assessment to customize program
Metabolic Makeover nutritional supplements
36 Private Ridefit sessions by Skype
Unlimited group Ridefit sessions by Skype
15 Minute Rider Warmup video to take with you anywhere
Weekly accountability worksheets and check-in
Ridefit Reflections™ e-mail – education, motivation and inspiration in your inbox weekly
Access to the private Ridefit Facebook group for support, encouragement and accountability
---