Do you love horses and riding? Do you love fitness? Would you like to combine the two and make a living doing it?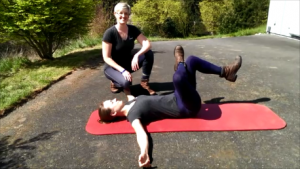 Become a Certified Ridefit Instructor and create the career of your dreams!
Ridefit is more than just another exercise program. It is much, much more! It has the power to transform riders' bodies, riding, and lives, by making the physical balance, coordination and movements required an instinctual part of the rider's body. Learn how to give this to your clients!
We are currently offering a Pilot certification program, and the first 5 people to enroll in the Pilot program to become Certified Ridefit Instructors will get the full 12-week training for half-price!
Benefits of becoming a Ridefit Certified Instructor:
International brand recognition in the equestrian community
Online presence in the Ridefit Certified Instructor directory
Access to powerful, top-of-the-line scheduling and online marketing tools at a fraction of the cost
Done-for-you marketing campaigns
Free promotion of your clinics and fitness events to the entire Ridefit community
Opportunities to teach online classes to the Ridefit clients around the world
Private Ridefit Instructor Facebook group to get questions answered and support in starting your rider fitness business – from marketing ideas to what to charge, and how to build your business.
Affiliate payments on business you bring to Ridefit, including merchandise sales
Course includes:
12 weeks of 3x/week Ridefit workouts

Course materials

Books

Exercise List

Weekly Instructional Lectures

Practical experience instructing Ridefit classes

Practical experience evaluating rider fitness needs on and off the horse

Certification examination – practical and written

Ridefit collapsible water bottle
Ridefit Instructor workout T-shirt upon satisfactory completion of course
Requirements for certification with Ridefit:
Valid CPR Certification

Personal Trainer or Fitness Instructor certification (or equivalent)

At least 2 years of riding experience
Full cost of certification course: $1200.00
First 5 Enrollments: Only $600!
Use the buttons below and enter the Promo Code: PILOT
Course Schedule: